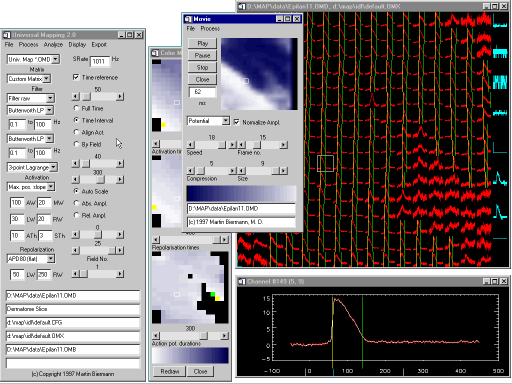 ...the first fully graphical "universal" data display and analysis tool for cardiac electrophysiological mapping:
Read data from files in any binary data format that you'll ever have (any length of header, 1 or 2-byte encoding, multiplexed or per-channel formats, byte-swap, up to 9999 data channels, no limit on the number of frames),
Display electrogram and external signal channels in any pattern on the screen - Universal Mapping will accommodate any electrode array that you had or will have.
Analyze all kinds of mapping data (body surface electrocardiograms, unipolar and bipolar electrograms, fluorescent signals for optical mapping)
Filter your data for display and analysis
Look at your data in many different formats, all at the same time on the same screen:
Navigate through your data the way your mind works, not the way the programmer thought it ought to:

click any data channel on any screen (signal plot, color-coded maps, contour maps, movie) and Universal Mapping will take you to that channel
no modal dialog boxes will impede your progress
no need to memorize cryptic keyboard commands or menu shortcuts
NEW: Interactive zoom feature allows to zoom in on any time and/or amplitude interval with a few mouse clicks

Edit your data the way you want:

set, delete or move activation and repolarization marks by simple mouse actions
instantly see the effects of your changes: all windows are updated whenever a mark has been altered

Publish your data:

Capture any screen in Universal Mapping to a variety of formats (B&W postscript, color postscript, CGM) which can be imported into all kinds of graphics programs such as Corel DRAW or Adobe PageMaker for publication quality output
edit all objects in the screen dumps in your favorite graphics software: postscript files are scalable vector graphics - not bitmaps!

NEW: Print the graphics screens directly to any Windows printer
Export your data in many formats
Save all your settings to editable ANSI configuration files and re-load them later.
Learn about the power of Universal Mapping: The program is documented in detail on 30+ pages of Windows help file online documentation and there's even support.
Modify the program: The program is distributed with source code and can be modified by the user.
[FAQ's] [Support] [Installation Instructions] [Licensing] [About the developer] [Acknowledgements]

Telephone

*49-2 51-83-4 82 75


FAX

*49-2 51-83-4 73 83

Postal address

Klinik und Poliklinik für Nuklearmedizin, Westfälische Wilhelms-Universität Münster, Albert-Schweitzer-Str. 30, 48129 Münster, Germany

Electronic mail

BiermaM@uni-muenster.de (check several times daily)
M_Biermann@compuserve.com (checked less frequently)

Send mail to BiermaM@uni-muenster.de with questions or comments about this web site.
Copyright © 1997 Martin Biermann, M. D.